Press Release
By We The People, 02-09-23
If you weren't able to join us for our WTP meeting on Monday night with Lindsay Hoyt (Founder of Cornerstone Classical Academy), you missed a fabulous event! The room was super-charged with excitement about the miraculous things happening at Cornerstone in Northeast Jacksonville. In follow-up to Lindsay's riveting melodrama tale of starting this "Miracle School", Managing Director Edi Wohlgemuth has now sent us a link to an inspirational 3-minute overview of the school, narrated by Lindsay. Do watch it, as it's a super-feel-good, inspirational message: https://youtu.be/CmqbGjTUIS0
I think every attendee at Monday's meeting left the event believing that—with people like Lindsay, Edi, and their amazing team of teachers, like our very own Isabelle Sala—We the People CAN and ARE Making America Great Again!
BTW, in case you missed it, Edi and Lindsay mentioned their 1st Annual Spartans on the Green Charity Golf tournament coming up on April 13th. This will become an annual fundraising event, and the all proceeds will go to expansion of the school—to build a new upper school building and gymnasium (for grades 9-12). The Spartans on the Green golfing event will be held at the brand-new course called "The Yards" in Sawgrass Players Club, at 254 Alta Mar Drive in Ponte Vedra Beach. It will be a very high-level event all around.
Check out the golf course at https://www.playtheyards.com
Details on sponsorship opportunities are available at: https://www.cornerstoneclassical.org/_files/ugd/549a39_ce7bb07169f749cb89244aabf81893e7.pdf
If you are interested in participating as a sponsor or a player, register now at: https://1st-annual-spartans-on-the-green-golf-tournament.perfectgolfevent.com/
And one more thing: If you like the idea of having your name on a building, or in a room, or on a donor wall (via a legacy gift), you CAN! Check out:
https://www.cornerstoneclassical.org/legacy-gifts
Of course, you may recall our speaker last month was Keith Flaugh, co-Founder of Florida Citizens Alliance. Keith told us about the continuing efforts underway by Florida Citizens Alliance to enable Governor DeSantis and the Florida State Legislature to enact great legislation to ensure the highest quality Faith, Freedom, and Family oriented education throughout Florida. FLCA also advocates for school choice, parental involvement, and quality educational alternatives to public schools through their Faith, Freedom and Family Initiative.
If you are looking for way to get involved in promoting school choice right here in Nassau County—FLCA is looking for someone to serve as a Faith, Family, and Freedom Ambassador in Nassau County.As a Faith, Freedom, and Family Ambassador, you would advocate for school choice and become an expert consultant to connect Christian families and pastors to Christian educational products and services. FLCA Ambassadors will be part of a geographically dispersed team to connect and coach "Potential Founders" of non-government Learning Centers, often called One-Room Schools, Mini's, Micro's, Pods, Hybrids, etc. If you or someone you know might be interested in an Ambassadorship (a voluntary position with an expense budget and potential to earn $10,000 or more in commissions), learn more at https://floridacitizensalliance.org/faith-family-and-freedom-ambassador/.
Now, let's be honest. Aside from fixing the crisis at our border, is there really anything more important than ensuring the best possible education for our kids and grandchildren?
It's entirely up to us to make that happen, so let's do it! No matter your age or abilities, there IS something you can do, right here, right now.
Get involved.
Deb Boelkes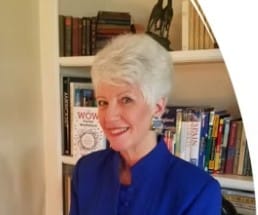 Founder, Business World Rising, LLC
Keynote Speaker and award-winning Author of:
Women on Top: What's Keeping You From Executive Leadership?
The WOW Factor Workplace: How to Create a Best Place to Work Culture
Heartfelt Leadership: How to Capture the Top Spot and Keep on Soaring
And coming soon:
Strong Suit: Leadership Success Secrets from Women on Top
Office: 904-310-9602
Mobile: 949-394-3590
Email: [email protected]
DebBoelkes.com || BusinessWorldRising.com || HeartfeltLeadership.com