Opinion
By Judge John Marshall Meisburg, Jr.
10-12-23
George Washington is known as the Father of our country. And for good reason. Washington was the General who led our troops to victory against the British in the Revolutionary War. And, he was our First President.
But how many know that George Washington was a devout Christian and a man of prayer? During the worst moment of the Revolutionary war, when all looked lost in the winter of 1775, Washington prayed in the snow at Valley Forge. A famous painting captures this scene. The Lord gave him a plan for a sneak attack on the British troops by crossing the icy Delaware river at night on Christmas eve. Another great painting shows General Washington in a boat leading his men across the river that fateful night. The rest is history. America went on to defeat the British and became a free and independent nation thanks to the courage and prayers of General George Washington.
Washington was a man of prayer and kept a prayer journal. He marveled at the fact that God had spared his life in many battles, and believed that the Lord had a great purpose for his life.
The faith of George Washington was renowned. His morality and Christian character were the secrets of his greatness. He was raised in a Christian home, and had a personal faith in Jesus Christ as Lord and Savior. Claims that he was a "deist" who did not believe in a personal God are totally false, and fabrications of the liberal revisionists. His prayer book alone testifies to his faith in Christ. Washington saw the hand of God very clearly in the formation of America. He said this: "No people can be bound and acknowledge and adore the invisible hand that conducts the affairs of men more than those of the United States."
In the French and Indian war, the Indians fired 4 bullets into Washington's coat, and killed his horse. But Washington was not injured and continued to fight and live. He said that God's hand had miraculously saved him many times, and that he was destined for a Divine purpose.
One of Washington's prayers was: "I have sinned against heaven before Thee, in thought, word and deed. I humbly beseech Thee to be merciful to me in the free pardon of my sins for the sake of Thy dear Son, my only Savior, Jesus Christ, who came not to call the righteous, but sinners to repentance."
Washington prayed for an hour each day, from 9 to 10pm before retiring for the day. He attended church regularly in Alexandria, Virginia, at St. Paul's Episcopal church, where he owned a box of seats for his family. The pew still bears his name today.
The day after he became Commander in Chief of the American army during the revolutionary war in 1775, General Washington issued an order to his troops which forbade "profane cursing, swearing and drunkenness." He also required all officers and soldiers to "attend Divine service, to implore the blessings of Heaven upon the means used for our safety and defense." Washington believed that American could not expect the blessings of Heaven upon their war effort if they were offending God by their conduct.
The nation's capital is named after him, and the Congress authorized the building of the Washington Monument on the mall in Washington, D.C. to honor his memory. The Washington Monument cost $30 million to build, and at 555 feet tall is the largest obelisk statue in the world, and the world's tallest stone structure. A law also prohibits any building in Washington to be taller than the Washington monument.
Some people today denigrate Washington, and even want to tear down his monuments, because he owned slaves. It is true that Washington owned slaves, but most of them were inherited by him from his father. And, it must be remembered that slavery was an accepted practice all over the world and in the American colonies at that time. Historical context is very important. Actually, Washington was very troubled by the morality of slavery and opposed its continuation in America. He knew it would cause great trouble for the young nation in the future. In 1786, he said that he favored a law that would abolish slavery in the entire country. And, notably, Washington freed all of his own slaves in his will in 1799.
Washington was unanimously elected our first President, and served two terms from 1789 to 1797. When he was sworn in as our nation's first President, Washington knelt down and kissed the Bible. He then led the Senate and House to St. Paul's Chapel for a 2-hour worship service. And he supported the appointment of chaplains for both houses of Congress.
Finally, in his famous Farwell Address, President Washington said that "of all the dispositions and habits that lead to political prosperity, religion and morality are indispensable supports." He said that "religion and morality are the pillars of American democracy", and that the person who seeks to undermine religion is no patriot.
George Washington, the Father of our country, was truly a great man, and a major figure in the Christian heritage of America. At his funeral it was said he was First in war, first in peace, and first in the hearts of his countrymen!
FAMOUS PAINTING OF GENERAL GEORGE WASHINGTON
PRAYING IN THE SNOW AT VALLEY FORGE DURING THE
REVOlUTIONARY WAR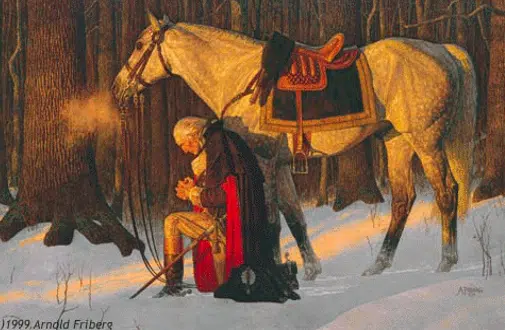 FAMOUS PAINTING OF GENERAL GEORGE WASHINGTON
LEADING HIS MEN ACROSS THE DELAWARE RIVER FOR
SNEAK ATTACK ON THE BRITISH ON CHRISTMAS EVE, 1775
MOUNT VERNON, HOME OF GEORGE WASHINGTON
ON THE POTOMAC RIVER IN ALEXANDRIA, VIRGINIA
THE WASHINGTON MONUMENT ON THE MALL IN WASHINGTON D.C. IS THE TALLEST STONE STRUCTURE
AND TALLEST OBELISK IN THE WORLD
ABOUT THE AUTHOR Judge John Marshall Meisburg, Jr., was a U.S. Administrative Law Judge with the Social Security Administration for 26 years in Jacksonville, Florida.  He retired in 2021 and is now living in Fernandina Beach, Florida with his wife of 43 years, Dr. Denise Meisburg. They have six children and 11 grandchildren.  He was a lawyer with the Federal government for 49 years, serving in all three branches with the U.S. District Court, EEOC, Justice Department, Congress, FDIC and Office of Special Counsel (MSPB).  He was an Elder at New Life Christian Fellowship in Jacksonville where he taught Sunday School, the Jewish Roots of the Faith and the Christian Heritage of America. He is now a member of Living Waters World Outreach Center in Fernandina Beach, where he serves in the prayer and home group ministry
---
The views expressed in this commentary are those of the author and do not necessarily reflect the official position of Citizens Journal Florida.