News
By George Miller, 1-5-23 Updated 2:15 pm- more to come
With the Republicans now holding a slim majority in the US House of Representatives, a surprisingly tough battle for Speaker has emerged. This is the first time in nearly a century that the Speaker wasn't chosen on the first ballot. After 6 rounds of voting as of Wednesday night, the House is still deadlocked. This reporter observed much of the 5th round live voting. It was like watching paint dry, so we just stuck to checking the final results after that.
————————–
1-5-23 midnight- lost 11 so far.
1-5 23 update 4:30 pm
McCarthy losing 9th vote, developing. See this also.
1-5-23 2:15 PM update:
From Daily Caller (read MORE):
McCarthy's opponents rallied around Republican Florida Rep. Byron Donalds for the second straight day, after supporting Ohio Rep. Jim Jordan on the first day of voting. Donalds garnered 20 votes, keeping McCarthy below the 218 vote threshold. All 212 Democrats supported incoming House Minority Leader Hakeem Jeffries, and 201 Republicans supported McCarthy.
Indiana Rep. Victoria Spartz voted present for the second straight day, while Florida Rep. Matt Gaetz voted for former President Donald Trump. (RELATED: With Speaker Vote In Chaos, Former Rep. Justin Amash Offers To Step In)
————————-
The political and media elite would have us believe that Minority Leader Rep. Kevin McCarthy (Bakersfield, CA) was the presumptive winner. He even moved into Pelosi's old office prematurely, assuming that he would win, claiming he "earned it, G*D-Damn it."
Conservatives are concerned that after finally getting back in the majority they could end up with another Paul Ryan or John Boehner, whose agendas/actions frustrated them for years.

Well, the house has been voting for two days and as many as 20 Republicans have voted against him, giving their votes to several other candidates, such as strongly Conservative Reps. Jim Jordan and FL Rep. Byron Donalds. Jordan is not running for the position, says he doesn't want it and may be afraid to jeopardize his presumptive appointment as Judiciary Committee Chair.
It appears that the opposition may be open to forcing concessions from McCarthy in return for their votes.
Meanwhile, Democrats have consistently voted unanimously for a newer far left representative Hakeem Jeffries, who has no chance unless at least 6 Republicans vote for him or don't vote.
Interestingly, both remaining candidates against McCarthy are originally from Brooklyn, NY, black and fairly unknown nationally- the Republican very Conservative and the Democrat very Progressive. Neither one has a likely chance of winning. If McCarthy can't prevail, it is likely that another candidate will be presented.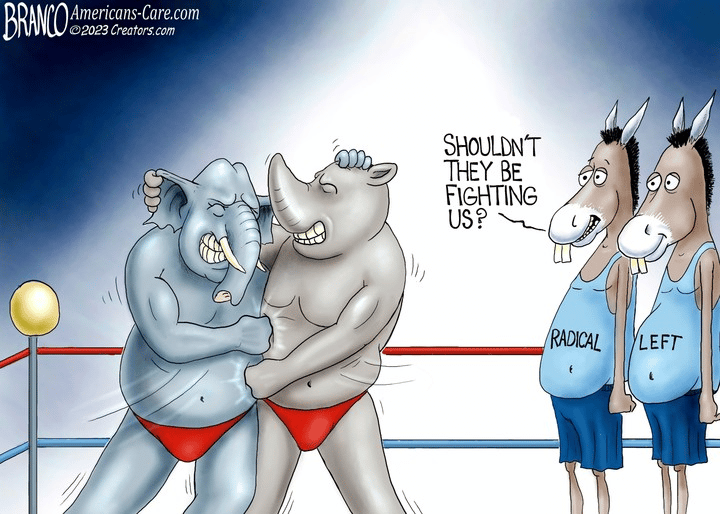 Former President Donald Trump, who many millions insist won in 2020 and most Republican Party Elite are supporting McCarthy. This is no surprise, considering his voting record and general preferences and proclivities.
Last we heard, McCarthy is trying to cut deals with dissenters to get enough votes to reach the magic 218. We understand that quite a few Republicans who don't want McCarthy are voting for him anyway, as he was/is the presumptive winner who would influence committee assignments, campaign money and even office assignments and party invitations.
Our District 4 Congressman-elect Aaron Bean is having none of the dissent and was supporting McCarthy last we heard.
Related:
https://www.c-span.org/congress/votes/?chamber=house
https://www.c-span.org/video/?525065-1/house-adjourns-electing-speaker
https://www.nytimes.com/live/2023/01/04/us/house-speaker-vote
https://www.foxnews.com/politics/house-speaker-race-rep-elect-byron-donalds-responds-retribution-running-against-kevin-mccarthy
https://babylonbee.com/news/in-11-hour-vote-buffalo-guy-elected-speaker-of-the-house
https://www.wsj.com/livecoverage/kevin-mccarthy-house-speaker-vote-santos
https://www.newsmaxtv.com/?ns_mail_uid=39ddc3fa-fec4-4b2e-a5e7-79495dbdee49&ns_mail_job=DM419778_01042023&s=acs&dkt_nbr=9898-1
https://www.theepochtimes.com/mccarthy-fails-in-first-vote-for-speaker-of-the-house-bitter-battle-erupts-among-gopers_4959177.html
https://floridapolitics(DOT)com/archives/578615-aaron-bean-confident-gop-house-ca
http://justthenews.com/government/congress/key-mccarthy-ally-says-deal-horizon-make-him-speaker-enforcement-mechanism-mustn-force-budget-immigration-changes/
A longshot, but it would be interesting:
---
George Miller is Publisher and Co-Founder of Citizens Journal Florida, based in Fernandina Beach. He is a "retired" operations management consultant, software and publishing executive and manufacturing management professional.