Press Release
By Congressman Matt Gaetz
05-01-23
Hello, Friends —
During last Friday's House Armed Services Committee (HASC) hearing on the "Department of the Navy Fiscal Year 2024 Budget Request," Navy Secretary Carlos Del Toro committed to taking further action to allow access for Northwest Floridians to visit the National Naval Aviation Museum at Naval Air Station (NAS) Pensacola. Our military is currently facing an unprecedented recruitment and retainment crisis. Reopening NAS Pensacola will provide another spark for getting young Northwest Floridians excited to join our Armed Forces in a positive and productive way. I will remain focused on ensuring the National Naval Aviation Museum at NAS Pensacola is open for Floridians to enjoy!

Additionally, I am proud to have forced a vote on my Somalia War Powers Resolution in the House of Representatives earlier last week! My resolution garnered support from 50 Democrats and 52 Republicans, and although it did not pass, it was necessary to shed light on the United States' continued presence in Somalia. It's no accident that many Americans are unaware we have troops in Somalia. For nearly three decades, the United States has been conducting "advise and assist" missions throughout the continent of Africa, and the American taxpayer has unknowingly been forced to foot the bill. It is imperative we stop risking American lives and wasting taxpayers' money in a war-torn country that we have no business being in.

Moreover, the Bureau of Alcohol, Tobacco, Firearms and Explosives (ATF) continues to prove it is a corrupt bureaucracy that violates the law. During a Judiciary subcommittee hearing, I voiced my concerns yet again about the ATF and advocated for its abolishment. It's been proven the ATF collected records on law-abiding citizens who are simply exercising their Second Amendment right. The agency has no business collecting such data. At the same time, it's been proven the ATF has lost thousands of firearms and weapons parts. The ATF keeps what it shouldn't keep, loses what it shouldn't lose, and enforces gun laws that its own agents can't follow. It's time we, as Members of Congress, take it upon ourselves to abolish Joe Biden's weaponized ATF once and for all.
NAVY SECRETARY COMMITS TO FURTHER ACTION ON NAS PENSACOLA NAVAL MUSEUM
Pensacola is a true Navy town, and our community deserves access to all of the Naval gems in Florida's First District. During Friday's HASC hearing, I questioned Navy Secretary Carlos Del Toro not only about the positive community impacts of the NAS Pensacola Naval Museum but also its positive effects on recruitment. Secretary Del Toro confirmed that the Department of the Navy is focused and actively working on near-term and long-term solutions to maximize public access to the National Naval Aviation Museum. As NAS Pensacola is one of Northwest Florida's many treasures, it's crucial that Northwest Floridians are able to visit it.
Click HERE to read more about my exchange with the Navy Secretary.
CONGRESSMAN GAETZ: BRING OUR TROOPS HOME FROM SOMALIA
The American people have extremely low confidence in our military leaders and their ability to assess their own efficacy. That's why on Thursday, I was proud to argue on the House Floor and force a vote on of my War Powers Resolution, H. Con. Res. 30, which directs President Joe Biden to remove all U.S. troops, excluding those assigned to protect the U.S. embassy, from Somalia. Why are the American people expected to believe our government's justification for occupying Somalia when the Pentagon can't even determine who in their own training programs will lead a violent coup afterwards? Even though the Congressional War Machine rages on, I will remain steadfast in my fight to end the forever wars.
Click HERE to read more about my Somalia War Powers Resolution.
CONGRESSMAN GAETZ INTRODUCES ASAP ACT TO ENSURE MILITARY MEMBERS ARE PAID
The welfare of U.S. service members is one of my top priorities in Congress. For this reason, last Monday, I introduced the Armed Services Always Paid Act, also known as the ASAP Act. While President Joe Biden and lawmakers in Congress continue to negotiate the debt limit plan, it's imperative our military service members receive the pay they deserve, regardless of how long discussions may take.

During the House Armed Services Committee markup of the FY2023 National Defense Authorization Act (NDAA) last year, I introduced an amendment that stated service members who were separated from the military after rejecting the COVID-19 vaccine mandate should be reinstated with their full rank and pay. Whether the issue be the debt ceiling negotiations or unnecessary vaccine mandates, I remain committed to making sure the United States of America pays our service members — no matter the changes in domestic policy.
Click HERE to read more on the ASAP Act.
REP. GAETZ SLAMS ATF DIRECTOR STEVEN DETTELBACH
Under the Biden administration, the Bureau of Alcohol, Tobacco, Firearms and Explosives (ATF) has ramped up its efforts in targeting law-abiding Americans who exercise their right to keep and bear arms. On Wednesday, I questioned ATF Director Steven Dettelbach during a House Judiciary hearing, demanding answers as to why the ATF has a "zero-tolerance" policy but, at the same time, has lost thousands of guns and illegally kept hundreds of thousands of firearm-purchase records.

Earlier this year, I received a letter from one of my constituents, who was a firearms dealer, explaining how his life has been ruined by the ATF. The man, who was a lawful firearms dealer for over 46 years, was blamed by the ATF for authorizing a non-approved background check. The ATF's "zero-tolerance" policy has destroyed the life and career of a constituent of mine in Florida over a paperwork technicality that wasn't his fault.

The definition of hypocrisy is when one is unable to live up to their own standards. While the weaponized ATF under Joe Biden continues to enforce its inconsistent policies, ruining the lives of Americans, I will continue my efforts to abolish this rogue agency and defund Director Dettelbach's salary. Northwest Floridians, and all Americans, must be able to continue enjoying their God-given rights.
FIREBRAND EP. 99: TEAM TUCKER CARLSON
Tucker Carlson's departure from Fox News has shifted the tectonic plates of Big Media. Sadly, for the time being, America has lost a voice that is unattached and uncontrolled by mainstream news outlets. I have no doubt Tucker will refuse to bow down to corporate media, and I'm confident he will come back better than ever before!
FIREBRAND EP. 100: REP. MARJORIE TAYLOR GREENE JOINS ONE HUNDREDTH EPISODE
I'm thrilled to announce Firebrand reached its 100th episode this week! On Tuesday, I invited my good friend and fellow fighter, Congresswoman Marjorie Taylor Greene, on to the podcast to celebrate this milestone. We had an epic conversation about Joe Biden's border crisis, the MAGA blueprint, and much more.

The danger that exists within the Biden administration is well known to the American people. We are now suffering the effects of Joe Biden's "Destroy America" agenda, which has sadly gained traction in our country. I will continue to stand alongside Representative Greene in our unwavering commitment to restore border security and Make America Great Again!
FIREBRAND EP. 101: LIVE WITH REP. TIM BURCHETT
I was joined by Congressman Tim Burchett for an episode of Firebrand to discuss the debt limit bill, the ATF, FISA, wokeness in the military, and more.

Under Joe Biden, our military has remained entrenched in conflicts we have no business being a part of, our communities have been harassed by the ATF, and our nation's debt is at an all-time high. The American people's first line of defense from the Biden administration is the House of Representatives. Instead of running away from the problems Joe Biden has created like so many other Members of Congress, we run toward them, continuing our fight to put America First!
AROUND THE DISTRICT
REP. GAETZ HOSTS SUCCESSFUL ART COMPETITION!
I am pleased to announce the 2023 Congressional Art Competition in Florida's First Congressional District was an enormous success! As your Congressman, it's my honor to host this annual event, which showcases the incredible artistic talent of young Northwest Floridians.

This year's competition was especially memorable, with a record-breaking 245 attendees and 105 submissions from students across the district. The quality and creativity of the artwork was truly impressive, and it was a joy to see so many young people expressing themselves through various mediums.

Congratulations to the three students who placed in this year's competition!

1st Place – Lara Proshek from Pace High School
2nd Place – Audra Davis from J.M. Tate High School
3rd Place – Mandie Becker from Milton

I am excited to have Lara's artwork on display in the United States Capitol for the next year, and I am proud to have had the opportunity to showcase the talent of all those who made submissions.
1st Place Winner: Lara Proshek, Pace High School
TONIGHT: CONGRESSMAN GAETZ'S ANNUAL ACADEMY NIGHT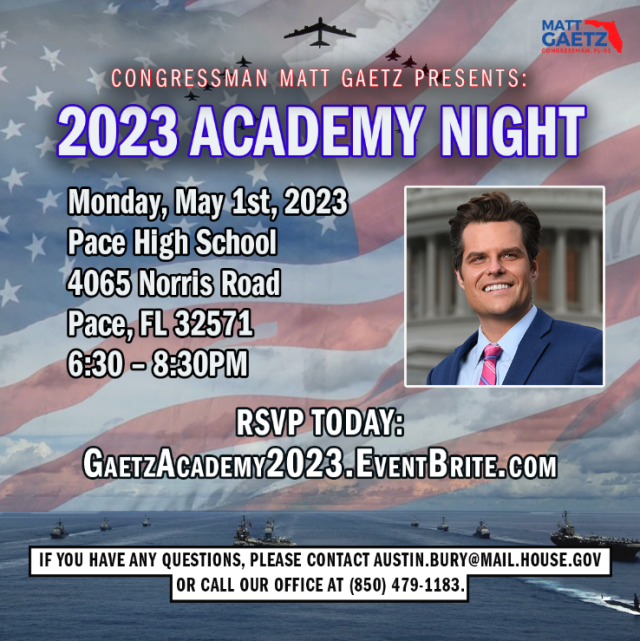 The 2023 Academy Night has been moved to TONIGHT, Monday, May 1st! The Academy Night is an opportunity for high school students to speak directly to me and Service Academy representatives to learn more about the process for granting admission to the U.S. Service Academies and receiving a Congressional Nomination.

Academy Night will be hosted at Pace High School (4065 Norris Road, Pace, FL) from 6:30 p.m. – 8:30 p.m.

All high school students, JROTC groups, parents, principals, and educators are invited to attend this event to learn about entry to the U.S. Service Academies. I look forward to meeting all of you!

To RSVP: Visit GaetzAcademy2023.eventbrite.com

For questions, contact Austin Bury at [email protected] or call my District Office at 850.479.1183 with any questions you may have.
GAETZ IN THE NEWS
WFIN — April 24, 20223

Rep. Gaetz doubles down on bringing US troops home from Somalia: 'Not a vital national security concern'

"'The US has had a military presence in Somalia since 1992, but it's been a costly and mostly fruitless endeavor,' Gaetz wrote. 'Somalia is entrenched in violence and political instability that has persisted for decades, and there seems to be no end in sight.'"
---
Trending Politics — April 27, 2023

WOW: Matt Gaetz UNLEASHES On Biden's Clueless ATF Director

"'And by the way, I am one of those MAGA Republicans that would defund your salary, your agency, and I think that all these good things that you say exist could happen with those folks at the local and state level, and this is a terrible abuse of power,' finished Gaetz."
---
Florida Daily — April 26, 2023

Matt Gaetz Offers Bill to Keep Armed Forces Members Paid in Case Congress Doesn't Have Deal on Debt Ceiling

"'While President Joe Biden and lawmakers in Congress negotiate the debt limit plan, I hope we can all agree that our military service members should be paid without delay.'"
---
American Faith — April 27, 2023

DOJ Inspector General Testimony Confirms FBI's 3.4 Million Warrantless 'Backdoor Searches' of Americans' Communications

"In an attempt to quantify the magnitude of the issue, Florida's Gaetz pointed out, 'I'm a lawyer, not a mathematician, but 3.4 million about 30%, you're talking about seven figures of error in terms of the searches.'"
---
WHAT WE'RE READING
Breitbart — April 26, 2023

Biden and His Puppet Master's Plan to Control Your Bank Account
---
Fox News — April 25, 2023

The next battlefield with China is the college campus
---
The Washington Post — April 25, 2023

U.S. is concerned about rivals' space threats, leaked documents show