Press Release
By Baptist Health
10-19-23
Jacksonville, Fla., October 19, 2023 – Baptist Health recently celebrated a major medical milestone – the completion of the 300th minimally invasive procedure to treat mitral regurgitation, a common heart valve condition in which the mitral valve doesn't close properly.
Using an innovative procedure called transcatheter mitral valve repair, a specially trained structural heart specialist guides a catheter through the vein in the groin up to the heart and carefully implants a MitraClip™ device. Because there is no incision, the patient only requires minimal anesthesia. A "magic stitch" closes the catheter site, which typically allows patients to walk a few hours after the procedure and go home the next day.
Program expertise
The MitraClip procedure at Baptist Health is performed by two nationally recognized interventional cardiologists Ruby Satpathy, MD, FACC, FSCAI, medical director of the Structural Heart Program, and Siddharth Wayangankar, MD, MPH, FACC, FSCAI, RPVI, director of the catheterization lab.
By continuing to advance research and education in this relatively new field, Baptist Health has become the highest volume structural heart program in the region.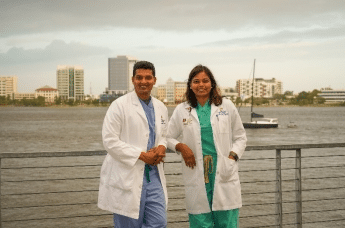 About Dr. Satpathy
Dr. Satpathy joined as the director of the Structural Heart Program at Baptist Health in 2016, after being recognized nationally as a pioneer in this specialty, which focuses on the diagnosis and treatment of abnormalities and defects within the heart's structure. She is well published with >400 citations and honored to be an invited faculty for Structural Heart at the national and international conferences for American College of Cardiology, Society of Interventional Cardiology, Transcatheter Therapeutics Conventions (TCT and TVT) to give talks, chair sessions and moderate live cases. Because of her expertise, Dr. Satpathy was recently invited by the American College of Cardiology and Society of Thoracic Surgery to the Heart House in Washington, DC, to write the expert consensus documents and guidelines for the management of mitral valve disease and guideline for transcatheter mitral valve treatment. Dr. Satpathy just completed her 250th transcatheter mitral valve repair, another huge personal milestone after being the very first to implant a MitraClip in the state of Nebraska in 2013 and first to do a commercial MitraClip case in Jacksonville in 2016. Today, she is one of the top implanters in the country and the highest female primary implanter for the device.
"Minimally invasive procedural options give us the ability to 'treat the untreatable' so our patients, who otherwise may be high-risk candidates for surgery, can start feeling better right away," said Dr. Satpathy. "We're focused on providing unmatched structural heart expertise in the Northeast Florida region with excellent outcomes so patients can experience their best quality of life."
About Dr. Wayangankar
Dr. Wayangankar joined Baptist Health in 2020 and has contributed significantly to the growth of the Structural Heart Program. He trained at the Cleveland Clinic in Cleveland, Ohio, and brings with him extensive experience and advanced expertise in treating a multitude of structural heart diseases. Dr. Wayangankar is extensively published in interventional cardiology and has >400 citations to his name. He was recently invited as one of the top 12 international experts in the field of structural heart disease to one of the biggest structural heart conferences in southeast Asia, The Structural Heart Summit in Mumbai, India. He represented Baptist Health and chaired and moderated several sessions and live cases on transcatheter aortic and mitral valve interventions.
"Structural heart is a rapidly evolving field of medicine and it's an exciting time for both providers and patients," said Dr. Wayangankar. "Transcatheter therapies have revolutionized medicine, and we're proud to offer so many services at Baptist Health so we can cater to the individual needs of each patient."
A comprehensive program
In addition to transcatheter mitral valve repair, Baptist Health offers an array of innovative treatment options for structural heart conditions including transcatheter aortic and mitral valve replacement (TMVR), transcatheter PFO/ASD closure, left atrial appendage occlusion, paravalvular leak closure and alcohol septal ablation. The team also leads and participates in national and international research studies, bringing unparalleled access to the latest in structural heart technologies and techniques to the community.
"It takes a highly dedicated and accomplished Structural Heart team to deliver such a comprehensive array of advanced treatment and care," said Michael A. Mayo, DHA, FACHE, president and CEO of Baptist Health. "We are proud to celebrate this medical milestone as an indicator of quality and demonstration of our commitment to providing the best cardiovascular care to our community."
Baptist Health was recently recognized by Becker's Hospital Review's 2023 list of "100 hospitals and health systems with great heart programs" and received the Society of Thoracic Surgeons' three-star rating for coronary artery bypass graft (CABG) surgery, which is the highest possible rating. To learn more, visit baptistjax.com/heart or call 904.720.0799.
Physicians providing care at Baptist Health hospitals are not employees or agents of the hospital. Drs. Satpathy and Wayangankar are employed by Baptist Cardiology, Inc.
About Baptist Health
Baptist Health is a faith-based, mission-driven system in Northeast Florida comprised of Baptist Medical Center Jacksonville; Baptist Medical Center Beaches; Baptist Medical Center Clay; Baptist Medical Center Nassau; Baptist Medical Center South and Wolfson Children's Hospital – the region's only children's hospital. Baptist Health is part of Coastal Community Health, a highly integrated regional hospital network focused on significant initiatives designed to enhance the quality and value of care provided to our contiguous communities. Baptist Health has the area's only dedicated heart hospital; orthopedic institute; women's services; neurological institute, including comprehensive neurosurgical services, a comprehensive stroke center and two primary stroke centers; a Bariatric Center of Excellence; a full range of psychology and psychiatry services; urgent care services; primary and specialty care physicians' offices throughout Northeast Florida; and Baptist Home Health Care by BAYADA. The Baptist MD Anderson Cancer Center is a regional destination for multidisciplinary cancer care, which is clinically integrated with the MD Anderson Cancer Center, the internationally renowned cancer treatment and research institution in Houston. For more details, visit baptistjax.com.