By George Miller, 12-31-22
When I was growing up in NY, we would all watch the countdown to when the gaudy, lighted ball in Times Square, which we viewed as the Center of the Universe, dropped at midnight EST to usher in the new year, accompanied by media pageantry. I left NY in my early 20's, living, visiting and working all over the country and 12 others, too- and we would still watch that whenever we could. When we were in California it was great, since the Times Square new year came at 9 pm PST.
But Fernandina has its own, more laid back but nice celebration downtown at the City Marina, which has several events, food and merchandise booths. FB deliberately rolls in the new year at a very early 7 pm EST, then quickly transitions to a rousing fireworks show. Seniors can then mostly head home through the smoke and youngsters can start seriously partying. Or maybe a lot of seniors go to parties, too.
Download/check out fireworks show video
Instead of a big lighted ball, they use- what else- a giant likeness of a shrimp, employing a crane instead of a tower. Arguably it is a prettier scene- of the marina, Amelia River Intracoastal Waterway and our beautiful downtown, with its trees all lit up and its friendly shops and restaurants.
This year, it was crowded, but not too much so. The throngs moved right along afterward and everyone was very pleasant. Among the rather diverse crowd by age, ethnicity and origin, seemed to be a vibe of quiet jubilation, even with all the trials our nation and the world are going through.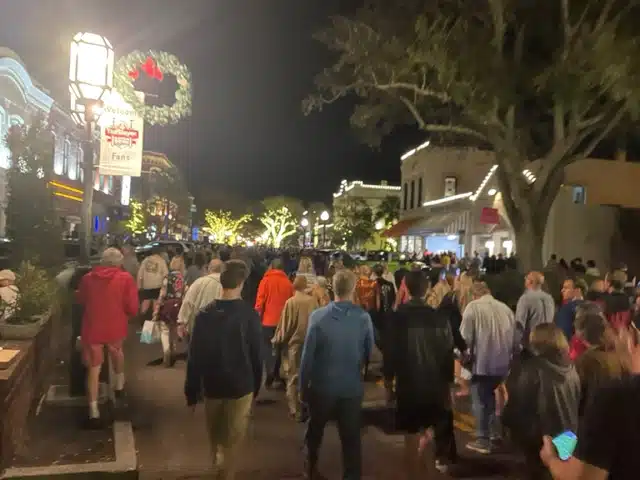 Unlike Times Square, no one was worried about getting mugged, hassled, or freezing to death, although we only missed the latter by a few days. This is more evident to people like me who have been around.
In FB/Nassau County we're kind of insulated from much of the bad things happening. The U.S. is a lot better off than most places. Florida has deliberately and skillfully insulated itself from some of the national madness going on right now. Its rapid growth, prosperity and (mostly) sane officials and good people have helped to achieve that. FB/Nassau in turn are more quiet, peaceful and safer than even most of Florida. We are grateful for that.
This place is small enough that you constantly run into people you know and those with mutual acquaintances. We have only been here a year and a half- 2 shrimp drops in time- but we ran into a slew of familiarity: a couple of shop owners, several fellow churchgoers, boaters, gym members, neighbors. Even a boating couple from Stuart parked in the marina. We spoke the common language of boating. The male half of the couple is a boat broker who knows my broker in CA well.
But all is not rosy. My wife, who volunteers extensively at multiple feeding operations for the needy, sees shocking numbers of people – thousands, actually- lining up for meals or food packages in the region. The deliberately-induced inflation scourge is much worse than our government/elite will admit, probably at least double. Even the working class is having trouble putting food on the table, paying household expenses, car, health care and utilities. Soaring housing costs have priced many young people and even local natives out of the American dream of home ownership. The secular/Progressive/"Woke" movement is attempting radical transformation of life which attempts to impact our mostly Conservative Bible-belt community.
---
George Miller is Publisher and Co-Founder of Citizens Journal Florida, based in Fernandina Beach. He is a "retired" operations management consultant, software and publishing executive and manufacturing management professional.