Opinion
By CCDF- Nassau County, FL, 11-29-22
With a Fernandina Beach City Commission RUNOFF election coming up on Tuesday, December 13th, I want to share with you facts about who is running for election. You may think "it is just a local election" but read on to find out exactly what is at stake.

We have candidates who are supportive of family values, protecting the island, reasonable controls of development, protecting property rights, and controlling or reducing taxes and spending. All candidates speak to these issues to attract votes. But, are they being honest? What are they not telling you?

Here are some things you may not know about the candidates.

Two candidates support and promote the BLM (Black Lives Matter) group which has advocated for rioting, racism and misinformation. These two candidates also support the expansion and indoctrination into the LGBTQ+ movement in Fernandina Beach and Nassau County. City Commission Candidates, Genece Minshew and Mayor Mike Lednovich, recently took a public stance on the LGBTQ+ issue with the official city proclamation of Transgender Remembrance Day in Fernanda Beach for November 20th 2022.

Advance meeting video to the 4:41 minute mark for relevant remarks regarding the Mayor's Proclamation ….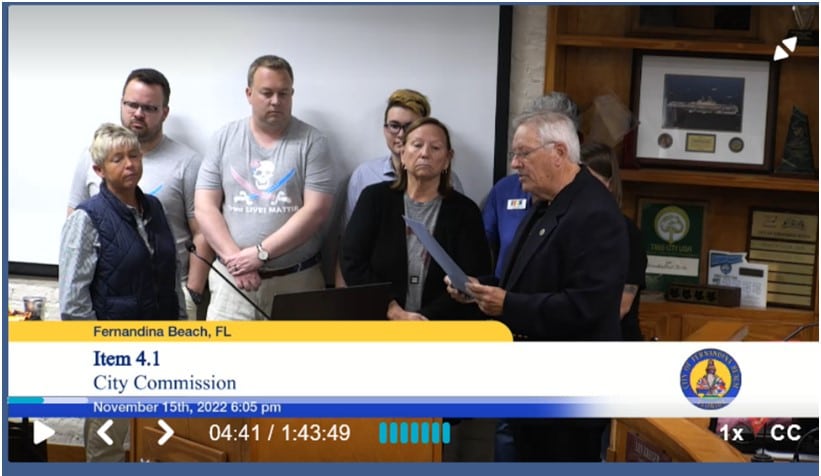 It seems that Mayor Mike Lednovich (city commission candidate) unilaterally decided to create the proclamation and present it to Genece Minshew (city commission candidate) who is the President of the Fernandina Beach Pride Group that supports and indoctrinates – especially children – into the LGBTQ+ community. Minshew supports promotion of LGBTQ+, racism and equity issues in media and art, according to her Facebook page. Are these the values supported by the Fernandina Beach voters? It is up to you to vote for your values.

Minshew goes so far as supporting transgender medical treatment for confused children who have been indoctrinated into the trans world. This is dangerous thinking to normalize in our small community – especially through a leadership role in the city.

Minshew's primary news source on Facebook is Occupy Democrats, a website that posts, according to Wikipedia, "false information, hyper partisan content, and clickbait". Via reposts, Minshew promotes "republicans' voter suppression is an attempt to shore up white power".

More facts. Locally, the Fernandina Beach Pride Group petitioned election officials to change a polling location making the accusation that the church location could possibly "suppress and intimidate LGBTQ+ voters". How exactly? No actions to cite. No proof. No motive. Just a typical unfounded accusation to get publicity and attack a faithful church at the same time. What really was the motive behind requesting the polling location change? It was because the church objected to the Fernandina Beach pride parade and festival – complete with a kids zone. The Transgender Remembrance Day is based on a transgender person who was tragically murdered. There is no evidence indicating that the death was based on discrimination, targeting or any other trans focused issue. There is no suspect. No motive. No proof of any of the claims made. It is sadly, another unsolved murder.

These are the candidates running for Fernandina Beach City Commission. Go to their website links if you want to find out more about them.

Fernandina Beach City Seat 4
James Antun, Chiropractor. small business owner
Mike Lednovich, Current Mayor

Fernandina Beach City Seat 5
Darron Ayscue- Nassau County Fireman, Union Leader
Genece Minshew, President of Fernandina Beach Pride

BLM, LGBTQ+, Transgender Remembrance, Youth Pride Camp – are seeking to work their way into the LEADERSHIP of our city? This is real, fact based and should be alarming to everyone – of every faith, sexual orientation, or political party. Some people may refer to us or this messaging as hateful. Not so. These are all facts taken from candidate websites, Facebook posts and public events. We simply seek to shine a LOCAL LIGHT so that voters can make an informed decision and take LOCAL ACTION.
County Citizens Defending Freedom (CCDF) – Nassau County – City Candidate Questionnaire
This questionnaire has been updated to reflect only the candidates for Fernandina Beach City Commission