Opinion
By Dave Scott, 2-3-23
Somethings Never Change: In a November 3, 2017 column headlined "First Do No Harm" (http://www.davescottblog.com/first-do-no-harm-do-not-vote-for-chip-ross-heres-why/) I warned voters hereabouts NOT to vote Dr. Ronald "Chip" Ross onto the Fernandina Beach City Commission. My plea was ignored and for the past six years we've lived with the chaotic consequences.
Infected with interminable gadflyism, Ross generates enormous damage, expense, and misery for local citizens and businesses. He even admitted that he was booted off Fernandina's Planning Advisory Board (PAB) because of his disruptive behavior. The PAB is authorized by the City Commission as the Local Planning Agency (LPA) and makes recommendations to the City Commission on the adoption of Comprehensive Plan amendments and Future Land Use map as well as amendments and requests for rezoning.
In that 2017 column I related how Ross personally attempted to destroy a restaurant and bar business in his former Solomon Islands, Maryland neighborhood where he created financial and personal havoc before bringing his destructive act to Amelia Island to torment local businesses and residents.
He is currently advocating that the city shutter the iconic and popular downtown Brett's Restaurant because he says the pier on which it sits is unsafe. Nonsense says local News Leader print columnist Steve Nicklas and marina architect and businessman Robert Allison who spearheaded the investment of $6 million into the pier and eventually gifted it to the city. Both have penned print News Leader opinion pieces recently providing detailed evidence of why Ross has no idea what he's talking about. They politely and accurately point out that he's a pompous blowhard, gasbag pulling the same publicity-generating anti-business stunts here that he did in his former Maryland place of residence.
This past Wednesday Ross wrote a lengthy News Leader piece advocating the sale of the marina, saying it's projected to be a money loser far into the future. Publicly declaring the pier is unsafe and the marina will continue to be a money-loser won't earn Ross any salesmanship awards.
But if he wants to sell the money-losing marina, then how about selling the money-losing golf course too? Why does the city own either one? It has proven over the years that it can't manage them or anything else competently. And is Ross the official city spokesperson? Ross and City Manager Dale Martin are the only two who produce frequent content to local news outlets. Mr. Martin? Mayor Bradley Bean? Who officially speaks for the city? Do you two agree with Ross? Disagree? What's going on down there?
But back to the destructive antics of Commissioner Ross.  Charles Donnelly, an attorney for the Solomon's Island Tiki Bar was quoted in an April 19, 2012 Southern Maryland Weekly Galvert Gazette article headlined "Local wins give Tiki Bar much to celebrate" saying his client (Tiki Bar) "spent between $300,000 and $500,000 on attorneys, architects and legal fees over the years defending itself from Ross."
Other area media there reported about Ross's activities in his former residence including one in the Washington Post by J. Freedom du Lac, the Post's then general assignment news editor, headlined "At the famed Tiki Bar in Southern Maryland, it's the doctor vs. the drinkers." Sean Rice of The BayNet.com authored another one about Ross on September 22, 2006 headlined "Prominent Tiki Bar Foe Charged with Intoxicated Endangerment."
According to these Maryland and Washington D.C. news reports Ross tried to strip a local bar in his former residence of its liquor license and had legal charges brought against him. The entire, very bizarre report of Ross's activities can be found by going to: http://www.thebaynet.com/articles/0906/prominent-tiki-bar-foe-charged-with-intoxicated-endangerment.html. The Washington Post article can be read in the May 28, 2011 Washington Post (At the famed Tiki Bar in Southern Maryland, it's the … – Washington Post ).
Armed with reams of reports, studies, consultant reviews, statistics, etc. that he twists to suit his own perverted purposes, Ross quickly made a name for himself hereabouts as an arrogant, mean-spirited know-it-all.  He initially attacked the Ocean Highway & Port Authority (OHPA), Rayonier and West Rock, three of the area's largest employers of locals and solid corporate citizens.
One of the most egregious local examples in Ross's local legacy took place just a few years ago when one of his nonsensical suits drove John and Teresa Sauer, and their special needs son, John Jr., out of their Fernandina home during the Thanksgiving holidays forcing them to take shelter in a local hotel, costing them thousands of dollars.
The Sauer family bought a house not far from Ross on Broome Street in Fernandina Beach's historical district in February 2015 and spent between $80-90,000 renovating it, only to have the financial roof cave in on them thanks to Ross. Until the suit Ross filed was settled the Sauer's were denied a certificate of occupancy.
The suit also cost city tax payers $5,000, the amount of the city's insurance deductible. Ross didn't care and said so in a letter to the editor in the News-Leader. Ross says he filed the actions to contest whether amendments to the City's Comprehensive Plan in June 2017 were in compliance with Florida Statute. The Sauer family was collateral damage in the way of Ross attempting to make a point but that apparently didn't bother the callous commissioner.
The court didn't agree. Administrative Law Judge Suzanne Van Wyk found that Ross's challenges were based upon "inaccurate contentions", that he "presented no relevant acceptable data or analysis which contradicted" that action and that he "did not prove" that the City's action was in violation of Florida Law."
There is not a single thing I'm aware of that this miserable curmudgeon has accomplished that benefits the city or any of its residents other than uniting the populace against his heartless disruptive antics.
So far my local scorecard reads that city residents, business enterprises, public opinion, Allison and Nicklas are skunking Ross. Can anyone hereabouts provide a concise, reasonable defense of this nasty man?
***
Speaking of Awful Politicians: New York Governor Kathy Hochul just became Florida's top realtor. According to recent news reports, a record number of New Yorkers ditched the Empire State in 2022 for Florida's sunny shores. The newly-minted Floridians say they were driven out of New York by the state's high cost of living, out-of-control crime rates, and Democrat-controlled government.
The U.S. Census Bureau reported Florida as the fastest-growing state in the union, adding over 400,000 to its population. Reporting by the New York Post suggests that 64,577 of them came from the Empire State. The paper attributes its information to license change data reported by the Florida Department of Highway Safety and Motor Vehicles. By contrast, New York ranked as the fastest-declining state in the union, losing more than 180,000.
When observing what Democratic mayors and governors are allowing to take place in other cities and states they oversee, imagine what a Gavin Newsom, Gretchen Whitmer, J.B. Pritzker, or Lori Lightfoot, would be to America if one of them became the president of the United States.
In what way is the administration of Joe Biden, who talks about America's evil past and racist present, any different from theirs.
***
Is It Just Me Or…do others also notice that each time House Speaker Kevin McCarthy (R-CA) or House Majority leader Steve Scalise (R-LA) speak from the House floor our own 4th District Congressman Aaron Bean (R-FL) is seated directly behind them to their right looking directly into the camera. I have no idea if that is an assigned seat or if Congressman Bean figured out early on how to snag that prime time piece of real estate. Either way, good for him as he's getting a great deal of national exposure.
***
You Might Not Believe This But…as bad as things often seem these days, if you look hard enough you'll find something to laugh about. How can you not when Liberals are so much on display?
For example, the Monday, January 30 issue of The Wall Street Journal, contained a not intended laugh-a-minute article headlined "Flight Attendant Dress Codes Ditch Gender" that your happy hour pals would claim you made up if you couldn't cite an authoritative source.
Not intending to be humorous, the dead-serious reporter described how JetBlue offers its employees the choice to wear any uniform of their choice regardless of gender.
OK, you can see what's coming next right? No, the pilot didn't show up in a tutu, but a male steward chose a dress and heels. The article goes on to describe how some passengers reacted, with one woman complimenting him and a guy asking how he manages to walk in heels for so long?
Does anyone besides me remember the good 'ole days when the Southwest Airlines tagline was "Somebody up there loves you!" and its stewardesses wore hot pants or when Playboy Magazine featured special pictorial sections titled "Girls of the Skies"?
***
Wait! What The…?  The massive bronze piece in Boston designed to pay tribute to Dr. Martin Luther King, titled "The Embrace", features two sets of arms holding each other, an artistic interpretation of a classic photo of Coretta and her husband hugging after he won the Nobel Peace Prize in 1964.
It wasn't well received. Even some relatives of Coretta Scott King hate the $10 million sculpture dedicated to her and her iconic husband, Martin Luther King in Boston a couple of Sundays ago — with a cousin claiming it "looks like a penis."
"The mainstream media … was reporting on it like it was all beautiful, 'cause they were told they had to say that," Seneca Scott, Coretta's cousin, told The New York Post, referring to the new Boston Common statue. "If you had showed that statute to anyone in the 'hood, they'd have been like, 'No, absolutely not,'" he added.
Seneca told The Post that while he couldn't speak for other members of the family, he felt the 25-foot-wide, 65,000-pound sculpture was a "waste of money" that should be "melted down."
***
Take That California: Very wise Wyoming Legislature members are considering a resolution to phase out sales of new electric vehicles in the Cowboy State by 2035.
The resolution's sponsors say Senate Joint Resolution 4 is a response to laws other states are implementing to eliminate gas-powered vehicles.
The resolution's sponsor, Sen. Jim Anderson, R-Casper, told Cowboy State Daily the intention of the proposal, titled "Phasing Out New Electric Vehicle Sales By 2035," is to push back against bans on new sales of cars with internal combustion engines in states like California and New York.
"The Legislature would be saying, 'If you don't like our petroleum cars, well, we don't like your electric cars,'" Anderson said.
Unlike California's ban on gas-powered cars, the resolution's co-sponsor, Sen. Brian Boner, R-Douglas, said the Wyoming resolution would be meaningful in making a statement if passed, but it would be entirely symbolic.
***
Just Saying: Currently the only secure documents in Washington DC appear to be Jeffrey Epstein's client list and Barack Obama's college transcripts.
---
Republished with the author's permission. Read The Dave Scott Blog– subscribe Free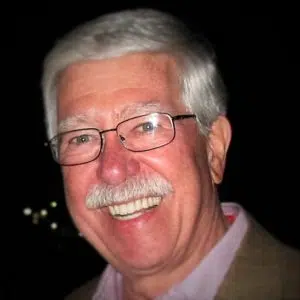 ---
The views and opinions expressed in this commentary are those of the author and do not necessarily reflect the official position of Citizens Journal Florida.