Opinion
By Jeff Childers
10-24-22
Good morning, and Happy Monday, C&C! In this morning's roundup: a wild pianist at the BBC; Zelenskyy is another wild pianist; moderator clamps down on professor who criticizes U.S.; US troops land on Ukraine border for training; Russians reach out about dirty bomb plot; Johnson is out and WEF fan is in as UK replacement prime minister; Hun Jintao news; Canada outlaws guns; and Nancy Pelosi wants to change the subject.
🗞*WORLD NEWS AND COMMENTARY* 🗞
🔥 The UK government re-defined public service this weekend with a remarkable show intended to promote trans-ness or something, ending on a bang, or ping, or tinkle. I'm not sure. Anyway, I'm not going to link the video clip for reasons which will shortly become clear. Don't go searching for it, I clipped (and blurred) enough to give you the whole idea. Trust me, you don't want to see the whole thing.
British taxpayer-funded television ran a show featuring a transgender comic, who gave new meaning to the term 'pianist.' During his final bit, he played the piano with gusto, then yelled something like, "let's do stupid stuff like this," stood up, grabbed his shirt lapels, and ripped off an obvious male-stripper-style tearaway outfit, leaving him totally naked. Waggling his breast implants, he snatched his intact male anatomy and (delicately) struck a piano key with it, then leapt up on his piano bench, posed dramatically, and ran off stage.
All live, on British public television, without any blackout, cutaway, or blurring. They showed the full dancing monte.
I added the blurring, not the BBC.
"Her" penis. Okay, whatever. He played ONE NOTE with it. Anybody (male) could do that. Try playing Beethoven's Fifth or something and THEN let's talk.
In fairness, Britain's Channel 4 is known for hosting 'edgier' programming. But, even for Channel 4, this is some kind of a record.
It's kind of like the universe was saying, haha, you thought the pandemic was bad. Wait till you see the next part!
🔥 Completely unrelated, but kind of related, in 2016 Ukraine's 'president' Vlodomyr Zelenskyy put on a similar show, while he was still a comedic actor, showing this whole penis-pianist thing has been brewing for a while. And somehow the trend is connected to key international leaders like Zelenskyy.
Do they really think we believe that this guy's experience as a dancing pianist prepared him to run wartime Ukraine? Please.
The whole thing is literally a joke. A bad joke, but a joke.
🚀 I'm not sure when this even occurred, but an interesting academic exchange made the viral rounds this weekend suggesting how tightly U.S. intelligence is controlling media and the academy. In the clip, the moderator immediately clamped down on Columbia University Professor and economist Professor Jeffrey Sachs when he suggested that the most violent country on Earth is the United States.
Moderator tries to silence Professor Jeffrey Sachs after he states the following truth: "The most violent country in the world since 1950 has been the United States."
7:07 PM ∙ Oct 23, 202211,923Likes4,556Retweets
The clip is both fascinating and ironic. The key moment went like this: Sachs: "You can be democratic at home, and ruthlessly imperial abroad. The most violent country in the world since 1950 has been the United States and by far … (loud cross talk) Jeffrey! Jeffrey! Enough! I'm your moderator!"
Before that moment, Sachs had warmed up by criticizing the British Empire for the same alleged conduct during the 19th century, and there was no problem whatsoever. It was literally as soon as he started criticizing the U.S. that he got shut down.
The scene is hopelessly ironic; a perfect allegory between the U.S.'s imperialistic control over Sach's big mouth and the U.S.'s imperialistic control over the world right now.
If Trump were in office, Sachs would have been allowed to go on and on about how awful and militaristic America is, and how we desperately need a no-superpower world, and so forth. Sachs is no lightweight gasbag, the majority of his practical experience has been in advising former communist governments how to set up market systems, including Poland and Russia.
Anyway. Only the RIGHT kind of expert is allowed talk about world affairs just now. Just like how only the right kind of expert was allowed to talk about covid.
🚀 In the old days, back when there was a Constitution, Congress had to VOTE on declaring war. But representative democracy is for chumps. What you need is something more like monarchy, with a king who can just shoot his men into battle whenever the spirit moves him.
This weekend, for the first time since the end of the Second World War, just in time for the Third, the 19,000-man 101st American Airborne Division has been deployed in Europe in an operational capacity. Coincidentally, just a few miles from Ukraine's border.
101st Airborne Div. @101stAASLTDIV
We have two objectives here on the Eastern Flank – 1) Assure our @NATO allies/partners and 2) Deter our adversaries. Get a glimpse into how the Screaming Eagles are doing that. #WeAreNATO @VCorps @StrikeBCT @SHAPE_NATO https://t.co/7B9N0oipob
CBS Evening News @CBSEveningNews
HISTORIC DEPLOYMENT: CBS News has been given exclusive access to the Army's 101st Airborne Division as they are deployed to Europe for the first time since the last World War. They are now the closest U.S. forces to the fight in Ukraine. https://t.co/61sAvrCeVf5:59 PM ∙ Oct 23, 2022172Likes53Retweets
To be clear, Congress has not authorized a war, not of any kind. The official explanation for the deployment of large numbers of U.S. troops into an active war zone is that they're there for 'training.'
Uh-huh. I get it, sometimes you have to run an "exercise" on a border somewhere to make a point to a potential enemy. But if that's what they're doing, they should SAY SO. All these lies corrode whatever trust in government the public has left.
🚀 We've seen world conflict escalating quickly the last week or so, with an emergency trip by the British to meet with our Secretary of Defense. Now, we're starting to talk to the Russians. Yesterday, Reuters ran a story headlined "Russia's Shoigu Holds Second Call With U.S. Defense Secretary in Three Days."
Russian Defence Minister Sergei Shoigu spoke with U.S. Defense Secretary Lloyd Austin on Sunday for the second time in three days and held a flurry of calls with three other counterparts from NATO countries. reuters.comRussia's Shoigu holds second call with U.S. defense secretary in three daysRussian Defence Minister Sergei Shoigu spoke with U.S. Defense Secretary Lloyd Austin on Sunday for the second time in three days and h…8:23 PM ∙ Oct 23, 20226Likes4Retweets
Russian media reported that Secretary Lloyd Austin and Minister Shoigu discussed "The situation in Ukraine, which has a steady tendency towards further, uncontrolled escalation[, and] possible provocations by Ukraine with the use of a dirty bomb."
Late last week, Russia claimed it had intel that Ukraine planned to use a dirty bomb in a false flag operation as a pretext to drag NATO into the war. Within the last two days, Defense Minister Shoigu has called Turkey, France, the UK, and now the U.S. to talk about Ukraine's alleged plan.
Leading Western governments have rejected the Russian information, calling it "false," and labeling it a gambit by Russia to create a pretext to escalate its war operation.
🇺🇸 🇬🇧 🇫🇷 🇷🇺 🇺🇦 Three countries rejected Shoigu's fears about Kiev's use of a "dirty bomb" The United States, Britain and France refused to believe in the possibility of Kiev using a "dirty bomb," according to a joint statement distributed by the US State Department.
6:57 AM ∙ Oct 24, 2022110Likes49Retweets
However, the British Ministry of Defence's statement about their call with Shoigu encouragingly urges "de-escalation," and says "the UK stands ready to assist" with seeking a "resolution to the war."
What's clear is the Russians are reaching out. This would be a good time to broker a peace deal. Somebody wake up Joe.
🚀 Ex-prime minister and briefly-favored replacement prime minister Boris Johnson pulled out of the running yesterday, leaving Rishi Sunak as the anticipated conservative replacement for ousted short-term PM Liz Truss.
BREAKING: Boris Johnson pulls out of Conservative Party leadership race.. paving the way for @RishiSunak to become Britain's next Prime Minister. Great news. 👏👏
8:08 PM ∙ Oct 23, 202233,583Likes2,942Retweets
Sunak is (relatively) young, of Indian descent, has been called the "richest man in Parliament," and is affiliated with the World Economic Forum. So.
🚀 I reported last Friday the dramatic story about former Chinese president Hu Jintao being suddenly, unexpectedly and ominously, removed from the Communist party congress in China. Independent online researchers have identified the two masked gentlemen who removed the former president. They appear to be president Xi's own personal guards:
10:18 PM ∙ Oct 22, 20228,731Likes1,899Retweets
It's not good news for Jintao.
🔥 Late last week Fox ran a story headlined "Canada's Trudeau announces ban on handgun sales, transfers, saying 'fewer guns means safer communities'." After signing the bill, Trudeau explained, "From today forward, it is no longer legal to buy, sell, or transfer a handgun in Canada."
TRUDEAU: "From today forward, it is no longer legal to buy, sell, or transfer a handgun in Canada."
5:00 PM ∙ Oct 21, 20229,610Likes2,745Retweets
Is it just me, or does the clapping after Trudeau's statement seem kind of, well, sparse?
Sorry, Canadians. You're having a tough run.
🔥 Nancy Pelosi's idea for helping democrats win the mid-terms is "changing the subject" from inflation. It's so unfair! And, everybody else is doing it.
NEW – Pelosi on inflation: "We have to change that subject…"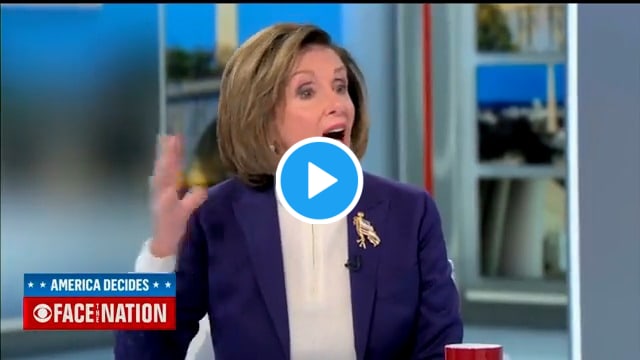 3:31 PM ∙ Oct 23, 20226,538Likes1,616Retweets
"The fight," Pelosi explained, "is not about inflation. It's about the cost of living."
Oh!
If I understand her right — and I am NOT at all sure that I do — she's saying the democrats need to change the subject from inflation to the cost of living. Somehow I don't think that's going to be much of an improvement for them.
Have a marvelous Monday! I'll see you back here tomorrow for more.
C&C is moving the needle and changing minds. If you can, I could use your help getting the truth out and spreading optimism and hope: https://www.coffeeandcovid.com/p/-learn-how-to-get-involved-
Twitter: @jchilders98
Truth Social: @jchilders98
MeWe: mewe.com/i/coffee_and_covid.
C&C Swag! www.shopcoffeeandcovid.com
Emailed Daily Newsletter: https://www.coffeeandcovid.com
---
The views and opinions expressed in this commentary are those of the author and do not necessarily reflect the official position of Citizens Journal Florida.